Quality
Airhardware is registered and certified as meeting the requirements of ISO
9001:2015 + AS9120B and complies with the requirements of
FAA AC 00-56B.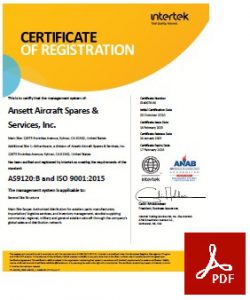 Click to download full certificate
CONFLICT MINERALS STATEMENT
In July 2010, the United States enacted the Dodd-Frank Wall Street Reform and Consumer Protection Act (the "Act") which contained a section (Sec. 1502) that regulated "Conflict Minerals." The Act includes provisions that require manufacturers to perform due diligence in their supply chains to identify and disclose the use of any Conflict Minerals and whether those Conflict Minerals originated in the "DRC Countries."
 Airhardware is committed to a supply chain that is Conflict Free. To this end we continue to work with our supply chain to strengthen compliance and ensure that only "DRC Conflict Free" materials are used in the products we distribute.
 Airhardware does not purchase tantalum, tin, tungsten or gold directly from smelters or mines. Due to the complexity and number of supply layers between the mines, smelters and Airhardware, we require our suppliers and subcontractors to determine the sources and conflict status of products produced to fulfill our requirements. More specifically, we request all Airhardware suppliers to certify that their products are manufactured using only "DRC Conflict Free" materials. Based upon correspondences received from our primary suppliers, we have no indication that the products we are distributing contain minerals from conflict mines or smelters in or around the Democratic Republic of the Congo.